Applying for Disability in Wake Forest or Raleigh, NC
by Tim Moore. Free Case Evaluation here.
If you live in Wake County North Carolina, and have applied, or are thinking of filing for disability, you probably have questions. On this page, I'll deal with the basic ones and the ones that most individuals are worried about. This includes what your chances of approval are, how long it takes, and how much you can expect to receive in monthly benefits. But let's start with the most basic question, which is how and where do you apply for disability.
Note: if you need help with a disability claim, contact us at 919-890-8519.
Filing for Disability in Wake County
Residents of Wake County, including Wake Forest, Raleigh, Oxford, Henderson, and surrounding areas can start their claim online by calling the national toll-free number, or contacting their local Social Security office.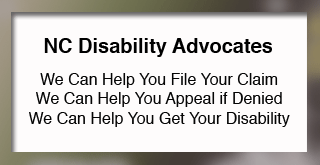 As local Disability Representatives, our advice is to avoid the 1-800 number and also to avoid filing online. We would advise contacting your local office and starting this way. Your nearest Social Security office will have jurisdiction and speaking to a live person versus online, and talking to someone who is local (vs the national toll free line) is less confusing. Once you contact the Raleigh Social Security office to start a disability claim, they will set an appointment for you to be interviewed. Here is their contact information:
Social Security Administration
4701 Old Wake Forest Rd.
Raleigh, NC 27609
(877) 803-6311
For individuals that we represent, we contact the Social Security office for them and get an appointment set for a disability interview to be done over the phone. We find this to be the most efficient way to get claim for Social Security Disability or SSI started.
We advise our clients, many of whom reside in Oxford, Henderson, and Wake Forest, to be well-prepared for the interview by writing down, in advance, their medical treatment, medications, and their work history. This is largely what the disability interview will be about and having the information readily available will make the interview quicker, less stressful, and will reduce the likelihood of missing information that is important to the case.
How long does it take to get disability in North Carolina?
Not every claim is the same, of course, so it can be diffcult to generalize. That said, most individuals can expect a decision on the disability application in 3 to 4 months, and sometimes in under 30 days, though this is very rare. Sometimes a claim can take longer, as much as six months or longer, but this is also a bit rare. When cases take this long, it is usually because the disability examiner working on the case has difficulty getting all the necessary medical records gathered.
If you do not get approved for disability on your application, you can file a new claim or file an appeal. Do NOT file a new claim. Many people do this, often because they do not understand the process or because they miss the deadline to file an appeal. It is a mistake. The way to eventually win your disability benefits is to appeal the denial with a request for reconsideration.
The Disability Hearing
If this is denied, we follow this up with a request for hearing before an Administrative Law Judge, or ALJ. This is where you will have your best chance of winning benefits.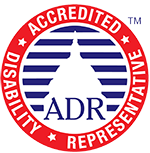 The hearing office for Wake Forest residents is located in Raleigh and we prepare our cases by gathering all the necessary medical record updates, analyzing your work history, getting statements from your doctors, and assembling what is called a "theory of the case" for why you qualify to receive benefits under Social Security law.
If we win your case at a Disability Hearing
If you win your hearing, it is likely you will be owed disability back pay because of the wait. This often amounts to thousands of dollars and, as your representative, this is how we are paid. We receive 25% of your back pay as our fee for winning your case. We receive this directly from the Social Security Admininistration and this is not something you personally have to deal with. This also means, of course, that if we do not win your case, there is no fee and you pay nothing at all. You will also be eligible to receive medical coverage under either medicaid or medicare, depending on whether your disability benefits are approved in the Social Security Disability or SSI disability program.
Preparation for a disability hearing
On the day of the hearing, you (and us if we represent you) will appear at the scheduled time. The judge may ask you questions, allow your representative to ask questions, and may also have a vocational expert present to testify about your ability to return to work.
Obviously, preparation for the hearing is very important and goes beyond simply getting medical records. How you respond to questions from the judge can impact the quality of your testimony. Your goal is to be completely truthful in your answers, but also to provide the information in your answers that the judge actually needs from you. And this can be difficult for someone who is not accustomed to being questioned in a hearing setting, which is why representation can be very important.
Free Case Evaluation
Seventy Percent of disability applications are denied in North Carolina. Complete the form below to get help with your disability claim. We are local, we understand how the system works in NC, and our consultation is FREE. After submitting, please scroll to the bottom for the confirmation that your form was sent, and to copy our phone number if you have further questions.
---