Social Security Disability Interview in North Carolina
by Tim Moore. Free Case Evaluation here.
After you contact Social Security to apply for disability, Social Security will conduct a disability interview with you. This can be done over the phone and you will be asked questions regarding your identity, age, and address. More importantly, you will be asked about: your medical conditions; your medical treatment history; your medications; and your work history.
Note: if you need assistance with your disability claim, contact us at: 919-890-8519.
If our office represents you (we handle cases in the Oxford, Henderson, Roxboro, Norlina, Creedmoor, Wake Forest, Zebulon, Youngsville, Wendell, Knightdale,and Warrenton areas, as well as connecting areas), we will contact Social Security on your behalf and get them to schedule a time at which Social Security will call you at home to conduct your application interview. We have found that this is the best way to get a claim started and is better than visiting the Social Security office in person and far better than trying to apply online.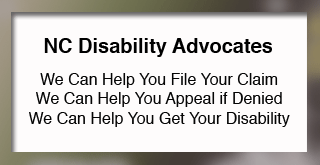 This is what we advise to make the process more accurate and far less stressful. Before the interview, write down all the following information:
Your Work history – List all your jobs for the last 15 years, what SSA calls the past relevant work period. Social Security will review these jobs to see if you can go back to any of them. To give them accurate information and not hurt your case, make sure you include job titles, names of employers, dates worked for each job, and a description of your duties for each job as you actually performed those duties.
Your Medical Conditions – Write down ALL your medical conditions, physical and mental. Leave nothing out. Social Security will consider everything you list, even if you haven't actually been treated for it. What happens if you haven't been treated for a condition, such as depression? Social Security will send you to a CE, a consultative examination. This can include mental or physical tests. Will a CE help you win your case? It may, but the best source of records will always be from a doctor who has treated you.
Your Medical Treatment Sources – Write down every hospital, clinic and the names of all your doctors and what they treated you for. With this information, Social Security will gather your medical records. Include beginning and most recent treatment dates also. Social Security will determine how far back you became disabled (Which can affect how much back pay you get and when medicare starts if you are filing for SSD. Pleas note that SSI recipients get medicaid, not medicare), but also whether you are currently disabled. You can only be approved if your records show you are disabled NOW.
Including the names and addresses of your doctors is vital BECAUSE if we represent your case we will generally attempt to get a medical source statement from at least one of your doctors to support your case. So do not leave anyone out.
Your Medications – This is the easiest thing list to make. Make a list of all your medications including the name, dosage, how many times you take it, and for what condition. Only include your current medications.
Writing all this down before the interview will help you to avoid missing anything. A disability interview without all the information at your fingertips can easily make you feel anxious and more likely to miss something. After your interview, be sure to keep everything you have written down. Why? There is more than a slight chance that the disability examiner who ends up working on your case will ask many of the same questions again. You may want to have more than one copy just in case.
Free Case Evaluation
Seventy Percent of disability applications are denied in North Carolina. Complete the form below to get help with your disability claim. We are local, we understand how the system works in NC, and our consultation is FREE. After submitting, please scroll to the bottom for the confirmation that your form was sent, and to copy our phone number if you have further questions.
---