Disability Examiner in Raleigh North Carolina
by Tim Moore. Free Case Evaluation here.
Most individuals, when they apply for disability in North Carolina, are unaware of how their claim will be worked on and by who. If you have already applied for disability, then you may know that a disability examiner at DDS (disability determination services) in Raleigh has been assigned to your case. That person will look at your medical treatment records and job history to determine if they will approve you for benefits or not.
Note: if you need assistance with your disability claim, contact us at: 919-890-8519.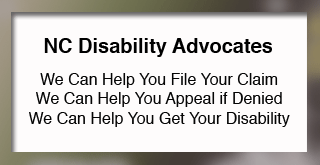 Here are some things you should know about disability examiners at DDS in Raleigh
The examiner will review the evidence that you tell them about. So be sure to list all your doctors when you first apply.
The examiner can only consider your work history accurately if you tell them about all your past jobs.
The examiner does not have a deadline. They may get your decision done in 60 days or four months.
If you get denied by an examiner, you should appeal your denial with a request for reconsideration. If you are at this step, you should probably get someone to represent your case because reconsiderations are overwhelmingly denied. And the next step beyond the reconsideration is a hearing before a judge.
Disability examiners can be contacted by making a call to DDS. And you are allowed to contact them to get a status of your case. Here is the contact information for DDS below item 7.
If the examiner schedules you for a consultative exam (usually a short medical exam), you must go. If you do not, you can be denied for failure to cooperate.
If the examiner sends you a 10-day call back letter, you must respond. If you do not, once again, you can be denied for failure to cooperate.
DDS, or Disability Determination Services
P.O. Box 243
Raleigh, NC 27602
3301 Terminal Drive
Raleigh NC, 27604
Phone: (919) 814-3222