Disability determination services in North Carolina
NC Disability Determination Services
by Tim Moore. Free Case Evaluation here.
Information about NC DDS
After you file for disability in North Carolina, your case is sent to DDS, or disability determination services. NC DDS is where the disability examiner who handles your SSD or SSI claim is located. Even though your disability claim is taken by a Social Security office, after it is taken they have very little to do with it. In fact, it does not begin to be processed until it is assigned to a disability examiner. As a disability examiner, I made decisions on all types of medical claims which gave me quite a bit of insight into the system works, and what a disability representative must do to obtain benefits for claimants.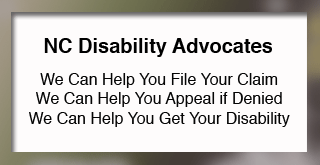 Where is DDS located?
Disability determination services is located in Raleigh, North Carolina.
North Carolina DDS mailing address, physical location, and phone number
P.O. Box 243
Raleigh, NC 27602
3301 Terminal Drive
Raleigh NC, 27604
Phone: (919) 814-3222

How long will my case be at DDS?
The short answer is that your case will be there as long as it takes to arrive at a decision, be it an approval or denial. You should generally expect that an initial claim will be there for 90 to 120 days. If your case is there for a reconsideration appeal, it may be there anywhere between 1 to 4 months at the outside.
Will I be contacted by the disability examiner who is working on my case?
You may be. It is fairly common for an examiner to contact a claimant, either by phone or by mail. Usually, they do this to get additional information about your medical sources, or to clarify some aspect of your work history, or to question you about your ADLs, i.e. your activities of daily living.
Can I contact the examiner who is working on my case?
Yes, you can. It is sometimes difficult to locate the phone number for DDS through conventional means. However, all you have to do is contact the Social Security office where you applied and ask for the number.
When you call DDS, you will reach the central operator who will ask you for your social security number. They will then look up your examiner and connect you.
Will I be required to go to DDS?
No, there is usually no reason at all for a disability examiner to ever request that you show up in person.
Can I visit DDS and speak to my examiner?
Actually, yes you may. DDS has fairly strict security protocols. That said, you may visit the agency if you feel a pressing need to speak to the examiner who is processing your claim, or if you need to drop off evidence, or records of any kind.
Seventy Percent of disability applications are denied in North Carolina. Complete the form below to get help with your disability claim. We are local, we understand how the system works in NC, and our consultation is FREE. After submitting, please scroll to the bottom for the confirmation that your form was sent, and to copy our phone number if you have further questions.
---