The Social Security Disability award notice process in North Carolina
by Tim Moore. Free Case Evaluation here.
If you get approved for disability benefits in North Carolina, under either the SSD or SSI program, you will receive two forms of notification.
The first notification that you get will be a notice of decision.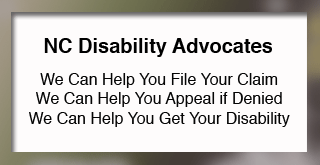 If your decision was reached by an ALJ, or administrative law judge, at a disability hearing–perhaps at the Raleigh NC, Charlotte NC, Greensboro NC, or Fayetteville NC hearing office–your notice of decision will indicate the specific type of decision that was given to you by the judge.
For example, the judge may have given you a "fully favorable" decision, which simply means that you were approved with an onset date that is in complete agreement with the onset date that you alleged when you filed for disability.
In other words, in a fully favorable approval the date you stated that you became disabled is the same date used by the judge to award you benefits.
In some cases, however, you may receive a notice that states your decision is "partially favorable". This means that you have been approved to receive continuing monthly disability benefits, either SSD or SSI, but that the start date for your disability is not the same as the one that you alleged on your disability application.
What is the real difference between receiving a fully favorable, or a partially favorable, decision? It has a lot to do with how much disability backpay you will receive.
And this is why, at a hearing, it is especially important to have medical evidence that documents that your condition was disabling as of the date you claim.
And we should point out that it is not enough to simply have medical evidence that came into existence at that time, but, rather, the evidence must be of sufficient quality to indicate that you had functional limitations that prevented you from engaging in work activity at that point in time.
After you receive your notice of decision, you will receive a notice of award. The disability award notice will indicate how much money you should expect to receive in your continuing monthly disability benefits.
Seventy Percent of disability applications are denied in North Carolina. Complete the form below to get help with your disability claim. We are local, we understand how the system works in NC, and our consultation is FREE. After submitting, please scroll to the bottom for the confirmation that your form was sent, and to copy our phone number if you have further questions.
---