List of Conditions for Disability in North Carolina
by Tim Moore. Free Case Evaluation here.
Is there a list of conditions for disability in North Carolina?
Not specifically for North Carolina. The Social Security Disability and SSI programs have a list of impairments, known as the listings, and these were once published in book form. A listing for a certain medical condition, such as for congestive heart failure, will provide specific criteria for approval.
Note: if you need assistance with your disability claim, contact us at: 919-890-8519.
Three things to know about the listings:
1. Most medical conditions are not included in the listings, 2. It is difficult to get approved with a listing, and 3. If you get approved for disability, it probably won't be through a listing.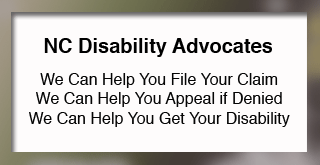 If you get approved for disability benefits, it will probably be through a medical vocational allowance. What is that? Since I am a former disability examiner in North Carolina in addition to being a representative for disability claims, I can explain this type of approval pretty easily.
When you apply for disability, you case is assigned to a disability examiner in Raleigh. That person will get all your medical records and review them to see if you meet a listing, such as for COPD, or Osteoarthritis. If you don't, and most people don't, the examiner will rate your residual functional capacity as either sedentary, light, or medium. There is a heavy work category but it is seldom used. These categories correspond to how much you can lift or carry, and how long you can sit, stand, and walk, among other things.
The purpose of determining if you are restricted to sedentary, light, or medium work is to see if you can go back to one of the jobs you had in the past.
When a disability examiner says you can go back to your past work, you are denied. If the examiner says you cannot go back to your past work, then they will determine if you can do some type of other work.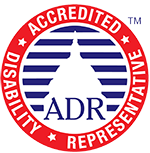 What decides if you can do other work?
It is based on your residual functional capacity of sedentary, light, or medium, but it also takes into account your age, education, and work skills. All of these things are plugged into a set of medical vocational rules. For example, if you are forty-five years of age, have a high school education, and your work skill level is considered to be skilled or semi-skilled, you will not be considered disabled by a disability examiner at Disability Determination Services. This is because of vocational rules 203.29 and 203.30.
But, that doesn't mean you won't be approved at a disability hearing before an Administrative law judge. For our clients that have been denied on a disability application, we file a request for reconsideration. This is the first appeal and it is usually denied. However, once we get through that step, we request a hearing and it is there that we have our best chance of winning the case. Social Security judges are not limited by these vocational rules and, so, if a judge decidesd that a claimant no longer has the ability to their past work, or any other work based on the judge's interpretation of how the medical conditions limit the person's activities, they will be approved.
Free Case Evaluation
Seventy Percent of disability applications are denied in North Carolina. Complete the form below to get help with your disability claim. We are local, we understand how the system works in NC, and our consultation is FREE. After submitting, please scroll to the bottom for the confirmation that your form was sent, and to copy our phone number if you have further questions.
---