What medical conditions qualify for disability in NC?
What conditions qualify for disability in North Carolina?
by Tim Moore. Free Case Evaluation here.
Because Social Security Disability and SSI are federal programs, the answer is the same for every state. And here it is: Potentially any medical condition, whether it is of a physical, psychiatric, or psychological nature, can qualify an individual to receive disability benefits.
This is because the evaluation system used by the Social Security Administration focuses specifically on one issue: the individual's ability to work, despite their condition.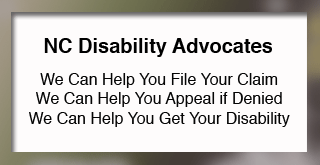 Applying for disability in North Carolina – the process
How does this evaluation system work? After you file a claim for disability in North Carolina, your case is transferred to a case processing specialist, known as a disability examiner. Before I became a disability representative, representing people's claims and filing their appeals, I was a disability examiner. This gives me quite a bit of insight into how claims are decided.
Disability Examiners work at a state agency that handles disability determinations for the Social Security Administration within the state. It is known as DDS, or Disability Determination Services.
At NC DDS, or North Carolina disability determination services, the examiner will do the following:
1. Send request letters to obtain medical records from all the doctors, hospitals, and clinics listed on your disability report form at the time you filed for disability.
2. After receiving the medical records–which may take several weeks, or even several months – the examiner will review them, looking specifically to see which conditions you have been diagnosed with, but, more specifically, looking for specific indications of how your conditions may affect you.
If a medical condition affects you and limits you in a certain way, this is called a "functional limitation".
Functional Limitations that can make you disabled
What are specific examples of functional limitations? Hearing loss and vision loss are examples of sensory limitations. Memory loss and inability to concentrate are examples of mental limitations. And physical limitations may include things like difficulty carrying more than a certain amount of weight, or difficulty standing, or sitting, or walking more than a certain life of time.
How will your functional limitations, which are learned about from your medical records, affect the outcome of your disability case? The disability examiner will notate everything that is pertinent from your medical records and then give you a rating, known as an RFC, or residual functional capacity, rating. This is basically a rating of what you are currently able to do.
How Social Security considers your jobs
This rating will be compared to the demands of the jobs you held in the past, and will be used to determine if you can still go back to one of those jobs. If it is decided that you cannot go back to one of your old jobs, then the examiner will decide whether or not you have, based on your skills, and training, and age (and current limitations), the ability to take up some new type of "other work".
Because the SSD and SSI system is based on determining your remaining, or "residual", functional capacity, and,thus, your resulting ability to engage in work activity, you can see, really, that any medical condition potentially qualifies you to receive disability benefits in North Carolina.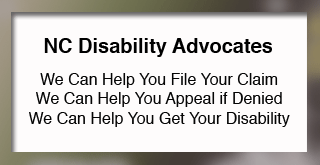 Getting disability by having a medical condition on the list
Now, having said this, there is a list of conditions that cite specific approval criteria; in other words, there is a list of conditions and if you meet the criteria for one of these these conditions in your medical records, you may be approved for disability.
This list is known as the blue book (simply because in printed form it is blue), or simply as "the listings ".
The way most people get disability in North Carolina
Getting approved on the basis of a listing can be fairly difficult. Many conditions do not have a specific listing. For example, carpal tunnel syndrome and fibromyalgia do not have their own set-aside listings in the bluebook.
The majority of cases that are awarded benefits in North Carolina are not approved through a listing. Instead, they are approved through the five-step sequential evaluation process used by disability examiners, in which is it is determined that your limitations outweigh your ability to go back to a past job, or switch to some type of other work.
If Social Security reviews your medical records and work history and decides that you cannot go back to your old jobs, and cannot do something else based on your age, work skills, and education, then you will be awarded disability no matter what your medical conditions are. The majority of time, however, a disability application will be denied. This will mean having to file an appeal called a request for reconsideration. If this is denied, then a request for a hearing before an administrative law judge will be made.
Preparing for such hearings is where we do the bulk of our work, which entails getting your updated medical records, reviewing all your jobs and what they required of you, and also getting statements called medical source statements from your doctors to present to the judge. We become as familiar as possible with your medical records to find that you qualify medically for benefits. We also become very familiar with your work history because judges often have vocational experts appear at hearings and these individuals look for ways to say that you can return to work.
If you need help on an existing case, or need to get one started, complete the form below and we will be happy to speak with you.
Seventy Percent of disability applications are denied in North Carolina. Complete the form below to get help with your disability claim. We are local, we understand how the system works in NC, and our consultation is FREE. After submitting, please scroll to the bottom for the confirmation that your form was sent, and to copy our phone number if you have further questions.
---