What happens on a disability application in North Carolina?
by Tim Moore. Free Case Evaluation here.
1. After your disability claim is taken at a Social Security office, it will be sent to DDS (North Carolina Disability determination services) where it will be assigned to a disability examiner.
2. The disability examiner will request medical records from all the treatment sources listed by you on your disability report form.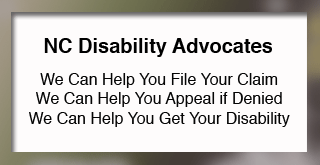 Receiving the records may take weeks, or even months. However, once the records have been received, the examiner will review them to determine how your condition limits your ability to engage in normal daily activities, including work activity.
In some cases, the examiner may find that you have a condition that is listed in the Social Security bluebook. If your condition is listed, and your records show that you meet the approval criteria for the listing, you may be approved on this basis.
In most cases, however, a person's medical records will not allow them to meet or equal the requirements of a listing.
In these cases, receiving an approval will depend on the records indicating that the claimant has functional limitations that prevent them from returning to work activity.
How does this process work exactly? The medical evidence will be evaluated to determine the claimant's remaining functional capabilities; this is referred to by the Social Security administration as "residual functional capacity", or simply RFC.
The RFC rating that you receive will help determine whether or not you can be expected to return to your past work.
For example, if you are given an RFC rating of "light work", this would mean that, according to the opinion of Social Security, you can only do light-exertion work, which is defined as the ability to lift or carry a maximum of 20 pounds occasionally, and 10 pounds frequently.
With this type of RFC rating, you could only be expected to return to your past work if your past work had required the same level of exertion that you are currently limited to–light exertion or less.
If your past work, however, had required you to do medium exertion work (medium level work requires the ability to occasionally lift or carry as much as 50 pounds, and frequently lift or carry as much as 25 pounds), you could not be expected to go back to your past work. This is because, in this example, the demands of your past work (medium exertion) exceed what you are currently limited to, which is light-exertion work.
3. If the medical records indicate that the claimant has not been to a doctor in the last three months, they may be sent to a medical examination performed by an independent physician. This is known as a CE, or consultative examination.
The report that is generated from the CE will probably not provide the basis for winning benefits. Just the same, though, it is very important that you go to your CE appointment if one of these exams is scheduled for you. Failure to go to the appointment can result in your case being denied.
4. After reviewing your medical evidence, and coming up with an assessment of your residual functional capacity, or RFC, the disability examiner will usually consult with a medical expert who is part of his case processing unit at DDS. This expert is a medical doctor.
In most cases, in order for the disability examiner's decision to be valid, it must be signed off by the medical expert (who, prior to concurring with the disability examiner, will also have read the medical evidence in the file).
5. After a decision has been reached by the examiner, the file will be transferred back to the Social Security office where the claim started.
If the claim has been approved, the claimant can typically expect to receive their Social Security backpay within 30 days, and then receive their regular monthly benefits the month after this.
If the claim is denied, the Social Security office will send the claimant a "notice of disapproved claim".
At this point, the claimant should probably contact Social Security and request an appeal.
If they have representation, they should probably also contact their disability representative to make sure the representative handles the task of filing the appeal.
Seventy Percent of disability applications are denied in North Carolina. Complete the form below to get help with your disability claim. We are local, we understand how the system works in NC, and our consultation is FREE. After submitting, please scroll to the bottom for the confirmation that your form was sent, and to copy our phone number if you have further questions.
---