Tips for your North Carolina Disability Application
by Tim Moore. Free Case Evaluation here.
Before you have your disability interview for Social Security Disability or SSI benefits in North Carolina, which can be done in-person (provided offices are open to the public) or via telephone, it would be a good idea to write down your work history, your medical treatment history, and all your medications.
Note: if you need help with a disability claim, contact us at 919-890-8519.
Tip 1: When it comes to your work, record all the jobs you have worked in the last 15 years, including your dates of employment, your job titles, and a good description of what you did on each job. Note: write down how your condition affected your ability to perform work tasks. You may also be contacted by the disability examiner assigned to work on your claim who will ask these kinds of questions.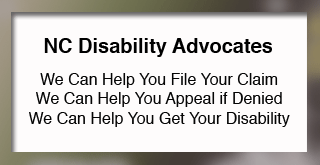 Regarding your medical treatment, write down all your treatment sources, including hospitals and clinics, your doctor's names, and when you were first and last seen. When you were "first seen" is important because it can help to establish how long you have been disabled which can impact how much disability back pay you may be owed if your case is won. When you were "last seen" is important because this helps to prove that you are disabled in the here and now. To win disability benefits, it must be shown that you are currently disabled according to Social Security rules.
Lastly, write down all the medications you are taking, but only your current medications. Include the names, dosages, how often you take them, what you take them for, and who prescribed them.
We base these tips on our experience representing disability claims in North Carolina, but also in having worked for the Social Security Administration's DDS agency in North Carolina. (DDS, or disability determination services, is the agency that makes disability claim decisions for the Social Security Administration). Our office, which is local, represents individuals in North Carolina who not yet applied for disability and individuals who have been denied for disability.
Free Case Evaluation
Seventy Percent of disability applications are denied in North Carolina. Complete the form below to get help with your disability claim. We are local, we understand how the system works in NC, and our consultation is FREE. After submitting, please scroll to the bottom for the confirmation that your form was sent, and to copy our phone number if you have further questions.
---