How does a Disability Lawyer or Representative get paid in North Carolina?
by Tim Moore. Free Case Evaluation here.
How do Disability Lawyers and Representatives get paid?
The answer reveals why anyone in North Carolina can afford to get representation on a Social Security Disability or SSI case.
Disability lawyers and non-attorney disability representatives (many of whom are former SSA field office Claims Reps and Disability Examiners, such as the author of this site, Tim Moore) only receive a fee for representation if the case is won.
Note: if you need assistance with your disability claim, contact us at: 919-890-8519.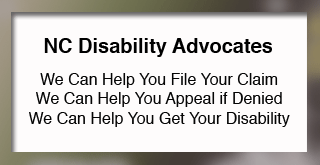 The fee is equal to one-fourth of a claimant's back pay, payable up to a maximum of $6000. For example, if a claimant receives $10,000 in backpay, the representative would receive $2500. If a claimant receives $24,000, the representative would be paid the maximum of $6000. Howevever, if the claimant receives $30,000 in backpay, the representative would still only be paid the maximum amount of $6000.
There is NO upfront fee for getting help on your case
In other words, a disability lawyer or non-attorney disability representative in North Carolina can only be paid if a claimant's case is approved, and the representation fee can never exceed $6000 under any circumstances.
In the Social Security system, the payment of fees is strictly regulated by SSA. For a disability attorney or disability representative to be paid after having won a case, the claimant must have signed a fee agreement that was approved by the Social Security Administration.
Note: The fee agreement, as well as the appointment of representative form (form SSA 1696) will normally be submitted to Social Security after a claimant has decided to hire their representative. If our office chooses to represent you, we will even contact Social Security to set up an appointment for them to call you and interview you over the phone.
Do I pay the fee to my lawyer or representative, or will Social Security do that?
The Social Security Administration will handle the payment of the fee and this will be done after the claimant's own back payment has been calculated. In other words, you will not have to worry about any aspect of paying your representative.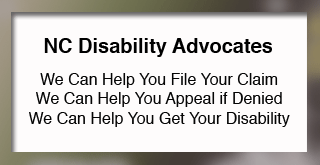 Additional costs
Note: Our office does not charge for additional costs as nearly every other office does. So this next answer really addresses other disability representatives in North Carolina.
A question that often comes up is "Will I have to take care of any other kind of cost in my disability case?" In all likelihood, a claimant will have other expenses associated with their disability representative or attorney. Most often, these expenses relate to whatever cost is incurred for the cost of obtaining medical evidence that is necessary to win the case.
Usually, this means reimbursement for the cost of obtaining copies of medical records, but there are times in which physicians charge a fee for completing an objective medical statement on behalf of their patient.
Read your fee agreement if you get representation
All costs that may be charged in relation to a case are clearly spelled out in the fee agreement that a claimant signs when they choose someone to handle their claim. All fee agreements must be approved by the Social Security Administration and this requirement ensures that representation standards are upheld. Nonetheless, claimants should always read their fee agreement before signing with the person they wish to handle their claim.
We do not charge additional costs
At this point, I should say that our practice is somewhat unique because we do not charge for additional expenses such as the cost of getting your medical records. We consider this as a cost of business and do not seek reimbursement from you. We regard whatever fee Social Security sends us as sufficient for handling your case. In this regard, we are very different from other disability claim representatives.
Seventy Percent of disability applications are denied in North Carolina. Complete the form below to get help with your disability claim. We are local, we understand how the system works in NC, and our consultation is FREE. After submitting, please scroll to the bottom for the confirmation that your form was sent, and to copy our phone number if you have further questions.
---