How long does a disability decision take in North Carolina?
How long will I wait for a disability decision in NC?
by Tim Moore. Free Case Evaluation here.
How long does a disability decision take in North Carolina? There is no deadline that applies to the processing of a case, or how long it takes to get a disability decision. The case may take one month to reach a decision, or it may take as long as a year in a few very limited cases.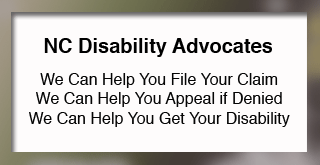 That said, if you apply for disability in North Carolina and get approved at the initial claim level, or what is commonly referred to as the application level, your case may simply take what is considered to be the average amount of time for processing.
What is the "average "amount of time?
This tends to vary by year. Officially, SSA has a time processing standard, or goal, of getting initial claim decisions done within 120 days. As a former examiner and someone who represents disability claims, I would say that a 90-120 day timeframe would be realistic after you apply for disability.
Of course, it does not always work out this way. As a former disability examiner at NC DDS (NC disability determination services), I can clearly recall many instances in which cases took as long as six months, or more.
In some cases, the amount of time may have reached up to a year or longer if there were very extenuating circumstances, such as the claimant having to go to multiple consultative medical examinations, or if the claimant had to undergo additional surgeries (which would, unfortunately, force the claim to be put on deferred status until the outcome of the surgery was known).
Normally, of course, the decision on the claim will be reached within the 120 day timeframe. But this is not always true, certainly.
Things that affect how long a disability claim can take
There are several variables that can affect how long it takes a disability examiner to make a decision on the claim.
1. Is the disability examiner having trouble getting your medical records?
If this is the case, it may be because the medical provider is slow in responding to requests for medical evidence of record, or MER. But, it may be because the information about treatment sources that was submitted at the time of application on the disability report form (SSA-3368) was either incomplete, or inaccurate.
Some individuals make the assumption that the Social Security Administration has a complete database of doctors, hospitals, and clinics. However, this is far from being true. To a large extent, Social Security–when it attempts to get your medical records–will rely entirely on the information, and the accuracy of it, that you provide.
This is why we always stress heavily that, when you go to the Social Security office to file your claim, make sure you have already written down all of your medical sources, going back to the time when your condition and symptoms first began. Be sure to include the names of all your doctors, all your conditions, and the full names and addresses of your treatment facilities. This will allow the examiner to successfully obtain your medical records, hopefully in the shortest amount of time possible.
Remember: the single largest delay on any case typically is the amount of time it takes the examiner at disability determination services to get your medical records gathered. Also–remember that the examiner cannot really even begin to work on your claim until the records have been received.
2. Are you being sent to several exams?
If you have to go to multiple CE scheduling's, this can certainly add a considerable amount of time to your case.
What is a CE? This dance for "consultative examination". A Consultative examination is an examination appointment that is set up for you by Social Security, specifically by the disability examiner who is working on your case.
The examination is performed by either a medical doctor, or by a licensed psychologist, or psychiatrist, if the exam is mental, meaning a mental status exam, or an intelligence test, or a memory test.
You are not responsible for the cost of the exam, and the exam is performed by a doctor who does not work for the Social Security administration, but, instead, is in private practice.
Note: it is extremely important for you to go to a consultative exam if one is scheduled for you. If you do not attend the examination appointment, your case may potentially be denied for failure to cooperate.
Of course, this gets back to one of the reasons as to why a person might have to go to multiple exams. Some individuals, in fact, have legitimate reasons for missing the appointment more than once. For example, they may be ill, or they may have had an auto accident, or they may have had a family emergency, etc.
When this happens, though, it can add many weeks of delay to the case out of the need to reschedule the exam, often with a different doctor. Therefore, if you were scheduled for an exam, make sure to go to the exam when it is scheduled because you do not want to add more time to your case… or run the risk of it being denied on the basis of failing to cooperate.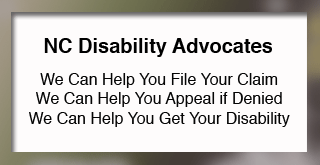 3. Does the disability examiner working on your case have a large caseload?
Unfortunately, this is the worst reason for a delay in receiving a decision on your case. Because it has nothing to do with you, but, rather, the fact that Social Security is subject to sometimes very heavy backlogs in the system.
This is, of course, why we also heavily stress that a person who is experiencing significant functional limitations that impacts their ability to work, or work at the level they are accustomed to, should consider applying for disability benefits. And it is in this area that some level of discussion with a disability representative in North Carolina may be helpful in shedding light on a number of issues.
Seventy Percent of disability applications are denied in North Carolina. Complete the form below to get help with your disability claim. We are local, we understand how the system works in NC, and our consultation is FREE. After submitting, please scroll to the bottom for the confirmation that your form was sent, and to copy our phone number if you have further questions.
---