Will I Qualify For Disability Benefits in North Carolina?
by Tim Moore. Free Case Evaluation here.
Will I qualify for disability after filing a claim for disability in NC?
In North Carolina, about 26 percent of initial disability claims i.e. disability applications are approved compared to an average national initial claim approval rate of about 32 percent.
For most claimants, the prospect of receiving a denial will be high, but the chances of being approved by the second appeal level, the request for hearing before an administrative law judge, will be significantly higher–typically 60 percent or greater, on average, when representation is involved.
Note: if you need assistance with your disability claim, contact us at: 919-890-8519.
If you have good representation at your hearing and they are familiar with your work history and medical history (because both factors are usually involved in being approved), you stand a very good chance of being awarded benefits. Our office takes pre-hearing case development very seriously because your hearing is your very best chance of winning disability.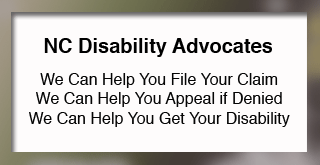 Filing for disability in North Carolina
If you file a disability application in North Carolina, your disability claim will be taken and processed by one of 37 local Social Security offices located across the state.
Note: if our office chooses to represent you, we can arrange for Social Security to contact you and conduct a telephone interview to start your claim. This will save you considerable time and effort and make sure that your claim is started in the most efficient manner. We represent claimans in the Raleigh, Durham, Wake Forest, Henderson, Zebulon, and Oxford areas.
To start the application process
You need only contact a Social Security office and arrange to have an appointment made for a disability interview, the purpose of which is to supply all the information that will be necessary to render a decision on your claim. For the most part, of course, this will focus on information regarding your medical treatment history and work history.
I do NOT recommend filing for disability online
Individuals filing for disability in North Carolina do have the option of applying online through the SSA website. However, filing online has several disadvantages. A disability interview with a field office claims representative is not conducted and, thus, a claimant will lose the opportunity to ask questions and receive answers regarding the filing process, as well as the appeal process if that becomes necessary.
Additionally, the toll-free, if a person chose that option, has a history of providing incorrect information.
Telephone application interviews, done by a local office, are usually the best option
Our office, when we speak with new clients who have not yet applied for disability benefits, will contact Social Security and get an appointment set for a disability application telephone interview. This can be the most time-productive and relaxed way of getting your claim started.
Processing a disability claim in North Carolina
After an application for disability is taken, it is sent to Disability Determination Services, or simply DDS. Once a disability claim is at the agency, it is assigned to a disability examiner. Disability examiners gather medical records from the doctors, hospitals, and other medical treatment sources you listed when you filed your disability claim and then use this information to determine the outcome of the claim.
Getting approved through a listing
In some cases, the examiner will review the medical records and determine that the claimant has a medical condition that satisfies the requirements of a listing in the Social Security list of impairments.
If the claimant does not have a condition that meets the requirements and qualifications of a listing, the examiner will then review the medical evidence to determine in what ways, and to what extent, the claimant is functionally limited, both physically and mentally, and, thus, restricted in their ability to engage in work activity that earns a substantial and gainful income.
How most disability cases are approved
This second type of decision is known as a medical-vocational allowance and it relies on an examination of the claimant's work history, in addition to reviewing the medical treatment history.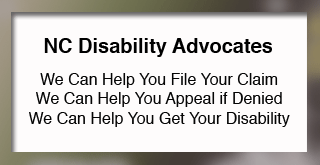 Note: if our office chooses to represent you, we will focus extensively on reviewing your work history and medical records to build a winning case. In this sense, we do what Social Security does, but with the very focused goal of getting your claim approved.
What the disability examiner considers on your case
In conducting this examination, the examiner must first determine the claimant's functional limitations. Limitations can include, but are not limited to a reduced ability to sit, stand, or walk, or a reduced ability to reach, grasp, lift, bend, hear, see, smell, remember, concentrate, etc.
Secondly, the examiner must compare the claimant's remaining functional abilities (known as their RFC, or residual functional capacity) to the types of jobs they have held in the previous 15 year period to determine A) if they can go back to a past job or B) if they perform some type of other work, assuming that they can no longer perform their past work.
Individuals who can no longer do their past work, and who, based on their age, education, work skills, and RFC rating, cannot transition to some type of other work, may qualify for disability benefits under the SSD or SSI program.
When it is necessary to go to a Social Security Medical exam
If the disability examiner finds that the claimant does not have current medical record information, they will typically schedule a consultative medical examination, or CE, to obtain it.
This is done because Social Security requires that current medical information be used to make each disability determination; in other words, an approval cannot be made on a claim if there are no recent records to prove that the individual is disabled, regardless of what the older records may say.
Both old and new medical evidence is important
Social Security will consider older medical evidence/records and, in fact, older information is essential for establishing a claimant's onset date which directly impacts how much they may be owed in disability back pay. But a claimant must have current medical evidence in order for an approval to be made on a claim. Medical evidence that is "recent" is considered to be medical treatment records that are less than ninety days old.
If your disability file does not have enough current medical information, you may have to attend one or more consultative examinations (paid for by Social Security) to evaluate the status of your disabling conditions. The examination may be a physical exam, an appointment for X-rays, a neurological exam, or possibly a psychiatric examination, or psychological testing for IQ or memory deficits.
The doctors who do Social Security exams
The doctors who perform these examinations are not employed by SSA but are private physicians contracted to perform consultative exams. After an exam is performed, the doctor will send a medical report to the disability examiner. If your disability claim is denied the Disability Determination Services will send you a denial notice. If you qualify for disability, your disability file will be sent back to your local Social Security office for the final processing of your claim before you are notified of the approval.
Rates of denial in North Carolina and filing appeals
Most initial disability claims are denied. If your disability claim is denied, you can file a reconsideration appeal. Unfortunately, the reconsideration appeal approval rate in North Carolina is even worse than the initial disability claim approval rate.
In North Carolina, the reconsideration appeal rate of 10.4 percent is somewhat lower than the national average of 11.0 percent. Either way, about 89 percent of all reconsideration appeals end in a denial for disability benefits.
Fortunately, the disability hearing appeal level (the second appeal level) offers disability applicants the best chance of qualifying for disability benefits. Administrative law judges make their own medical disability decisions and are not subject to having their decisions altered by supervisors or quality control units.
Winning a case at the hearing level
That said, to win a case at the hearing level, a claimant must present a rationale for approval that is well supported by objective medical evidence. Very often, a strong knowledge and understanding of Social Security regulations (title 20 of the code of federal regulations), Social Security court rulings, and the medical vocational grid rules that direct decisions on claims will be required to successfully present a case to a Social Security administrative law judge.
Note: our office prepares to win your case by conducting pre-hearing preparation with you, in addition to gathering and analyzing medical records and statements from your doctors.
Both national and North Carolina disability hearing statistics show that more disability applicants qualify for disability at this level of the Social Security Disability SSI process.
North Carolina's disability hearing approval rate of 61.7 percent is slightly higher than the national disability hearing approval rate of 58.6 percent.
Seventy Percent of disability applications are denied in North Carolina. Complete the form below to get help with your disability claim. We are local, we understand how the system works in NC, and our consultation is FREE. After submitting, please scroll to the bottom for the confirmation that your form was sent, and to copy our phone number if you have further questions.
---