The Basics about North Carolina Disability Claims
by Tim Moore. Free Case Evaluation here.
How long will my disability case take in North Carolina?
It depends. If you get approved on a disability application in North Carolina, it could take 3-4 months. However, if you are like most applicants and get denied on the initial claim, then you will likely have to file an appeal known as a request for reconsideration. Those are usually denied. If that happens, the next step will be to request a hearing before a judge. That can easily take over a year.
Note: if you need assistance with your disability claim, contact us at: 919-890-8519.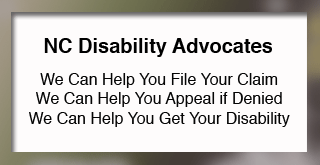 Start to finish, the process can take over two years if a person has to file appeals. Which makes it even more important that the case is handled properly in the beginning to try to maximize the chance of winning the claim as soon as possible, perhaps even without the need for appeals.
Will I need a lawyer or disability representative in NC to win benefits?
Answer: no one is required to have representation. However, whether your hearing is held at the Raleigh, Greensboro, or another hearing office, it would be unwise to go to a hearing unrepresented.
Judges will even inform claimants who show up at a hearing by themselves that getting representation is in their best interests and will reschedule the hearing to give them time to find someone. Without a doubt, a disability lawyer in NC will improve the odds of winning benefits.
How do I file for disability in NC?
If you have become unable to work in North Carolina as a result of a medical condition that is mental or physical in nature, you can file for disability benefits at your nearest Social Security office. You can also do this online; however, I would recommend that you contact a local office and arrange to begin your claim either in person or via a telephone interview.
The online process, despite its goal of being uncomplicated, is not as easy simply speaking with a representative at a Social Security office. You also do not have the option of asking questions when you use the SSA online application process. And that can be crucial for avoiding mistakes and more fully understanding what you need to do.
Do I file for Social Security Disability or SSI?
Many individuals in NC are unsure of whether they will be filing for SSI disability or filing for Social Security Disability. The simple truth is that you do not need to be concerned with this as the Social Security office will determine which of those disability programs your claim should be filed under.
In a nutshell, if you have worked long enough to be insured for SSDI, then your claim will most likely be for Social Security Disability. However, if you did not earn much in your working years, or have been out of work for a long time, or the claim is for a child, then the claim will probably involve SSI disability.
How are those programs different? SSI provides medicaid and SSDI provides medicare coverage. Also, SSI takes into account a person's assets (there is a countable asset limit of $2000 that you must be under in order to be eligible) while SSDI is not even slightly concerned with assets, meaning you could have hundreds of thousands of dollars in assets and it would not affect your ability to draw monthly SSDI benefits.
Seventy Percent of disability applications are denied in North Carolina. Complete the form below to get help with your disability claim. We are local, we understand how the system works in NC, and our consultation is FREE. After submitting, please scroll to the bottom for the confirmation that your form was sent, and to copy our phone number if you have further questions.
---