Applying for Disability with COPD in North Carolina
by Tim Moore. Free Case Evaluation here.
When we get a call from a person seeking help on their case, we usually see that they have a number of medical conditions, and often this is a mix of both physical and mental conditions. If the individual mentions COPD, we'll typically ask them how long they've suffered with the condition, what medications they use, and even more important, how it affects their daily activities.
Note: if you need help with a disability claim, contact us at 919-890-8519.
Why Social Security cares about your daily activities
This is because Social Security has a strong focus on how a person's medical condition affects their ability to engage in ADLs, or activities of daily living because this can be a reflection of their reduced ability to work. So, we may ask the person if they fatigue easily, if they have chest pressure or tightness, if they experience shortness of breath when doing normal activities, and if they have trouble sleeping and need to use one or more pillows to prop themselves up, or even sleep in a recliner.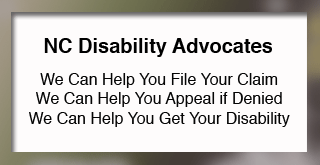 A strong reduction in your ability to engage in normal daily activities points to your inability to go back to work. Therefore, if you apply for disability in North Carolina, under either Social Security Disability or SSI, and you have COPD, then you may have a strong case. But before giving consideration to anything else, you need to file a claim. Many individuals who would qualify for benefits delay filing and this is a mistake because disability claims are not quick.
Gettin the claim started quickly
This is why our office assists claimants with getting an appointment scheduled with a local Social Security office for a disability application interview. This interview is conducted by phone with a representative of the Social Security Administration and makes it much easier for an applicant to get their claim started, particularly since we contact SSA and get the date and time for the appointment and are then ready to appeal the case if it is denied. We advise our clients to get prepare for the interview by having their medication bottles handy and by writing down their medical conditions, their doctors, and their work history. This can make the interview go much more smoothly and avoid leaving out important information.
How does Social Security look at COPD?
COPD can be evaluated in one of two different ways.
The first is by seeing if you meet the disability listing. The listings are a collection of impairments for which Social Security has specific approval criteria.
Getting approved for disability on the COPD listing is possible, but difficult and this is evidenced by how many individuals with COPD get denied on their disability application. At our practice, it is not uncommon to see claimants with COPD and other conditions such as arthritis, back issues, depression, and pain, get denied.
However, we see that these are good cases, particularly if the individual is over 40 years of age and it is clear that their daily activities have been severely limited by their condition. We will file the first appeal, the request for reconsideration, knowing that while it is likely that this will get denied as well, we will then be able to request a hearing before a North Carolina Social Security Administrative Law Judge. And it is at this hearing that we will have the best chance of winning the case based on the evidence we submit to the judge, and the argument for approval that we put forward which is based on Social Security Law.
The second way of being approved for disability in North Carolina with COPD is through the medical vocational grid. This is a system of rules that tells a disability examiner in Raleigh if you should be approved or not. The grid considers your age, education, residual functional capacity, and job skills. But, again, it can be difficult for individuals with COPD to get approved in this manner simply Social Security denies so many claims. In fact more than 70 percent of cases are turned down in NC. But, just as before, we view these as good cases because we know that COPD is a very limiting disease and that if we get the case to a hearing, our chances of approval will be very good.
Why is it easier to get disability for COPD with a judge?
The answer is because there is a third way to get approved for disability, but this way only comes into play at a hearing. We rely on a Social Security ruling, SSR 96-9p, which allows us to establish your eligiblity for disability benefits if we can prove that your various limitations and restrictions negate your ability to do even sedentary work.
Obviously, this method means that we have to very carefully evaluate your medical records, looking for all signs of how your condition has affected your ability to do normal daily activities. In doing so, we will usually try to get statements from your doctors and we will also look carefully at the kinds of work you have done in the past. This is not the kind of effort that is made by a disability examiner who essentially works for Social Security. But, as your disability representative, this is our job because it can help you get your disability benefits, which you are entitled to and need.
Free Case Evaluation
Seventy Percent of disability applications are denied in North Carolina. Complete the form below to get help with your disability claim. We are local, we understand how the system works in NC, and our consultation is FREE. After submitting, please scroll to the bottom for the confirmation that your form was sent, and to copy our phone number if you have further questions.
---