Will my medical records be enough to win my NC disability hearing?
by Tim Moore. Free Case Evaluation here.
What does it take to win a disability hearing?
Medical records are most of it. But a medical source disability statement from a physician can often make the difference because it supplies a functional assessment that fits neatly with what SSA needs. And medical records very often do not provide this type of clarity.
Note: if you need assistance with your disability claim, contact us at: 919-890-8519.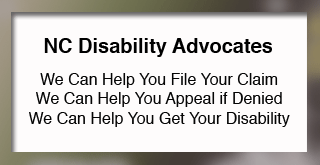 That said, there are some people who go to hearings unrepresented without doing any preparation other than getting the recent medical records together and do just fine. There are others who do this and get denied while they might have been approved had they been represented.
It would be nice to think that all that is required is just getting your records together so that a totally impartial judge could make the right decision. However, there are many judges who have a ridiculously high rate of denial (just as there are some judges who approve most of their cases). I think considering the fact that some judges seem to automatically lean against claimants, representation at a disability hearing would not be something to arbitrarily dismiss.
Seventy Percent of disability applications are denied in North Carolina. Complete the form below to get help with your disability claim. We are local, we understand how the system works in NC, and our consultation is FREE. After submitting, please scroll to the bottom for the confirmation that your form was sent, and to copy our phone number if you have further questions.
---