How do you file for disability online in North Carolina?
by Tim Moore. Free Case Evaluation here.
Answer: not through this website. Now, before you misunderstand, let me point out that I'm saying this for a very specific reason. Too often, I speak to individuals who tell me that they have gone to a "disability website" and have filled out a form, thinking that they have applied for disability with the Social Security Administration. In actuality, they have filled out a "lead form" that may put them in touch with a disability lawyer or representative…from somewhere.
My practice, which is located in central North Carolina, has its own form at the bottom of this page, but its pretty clear that this is so you can get in touch with us (so we can help you with your claim, help you get your application started, or file an appeal for you) not the Social Security Administration.
Note: if you need help with a disability claim, contact us at 919-890-8519.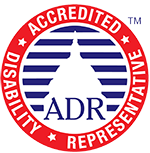 So, please be careful with other websites out there, mainly the ones that do not identify the name of the disability representative or practice. In our case, if you complete our form, 1. you will be contacted by us and 2. we are local and based in North Carolina, not New York, Florida, or California.
Does it matter if the person representing your case is in North Carolina? In my opinion, it does. We have daily contact with Social Security offices, Disability Hearings offices (in Fayetteville, Raleigh, Greensboro, and Charlotte), and the examiners at DDS, or Disability Determination Services. Out of state firms do not have the same degree of contact with Social Security because…they are out of state. And sometimes they don't even review your file until right before your hearing which is a terrible way to prepare for what is one of the most important moments for your financial and medical wellbeing.
What about filing for disability online with Social Security?
This is always an option. It is not our preference however. We believe it is best for an applicant to be interviewed by a real person at Social Security (this helps avoid confusion, mistakes, and makes for a better start to the claim) and so we do this: When you become our client, if you have not applied yet, we contact your local Social Security office and get an appointment for you for a telephone interview for a disability application. This guarantees that you will get your claim started because wasting time is not an option for someone who needs to get their claim going.
Free Case Evaluation
Seventy Percent of disability applications are denied in North Carolina. Complete the form below to get help with your disability claim. We are local, we understand how the system works in NC, and our consultation is FREE. After submitting, please scroll to the bottom for the confirmation that your form was sent, and to copy our phone number if you have further questions.
---