Your North Carolina Disability Attorney should be one that specializes in SSD and SSI
by Tim Moore. Free Case Evaluation here.
1. While many disability attorneys who represent disability claims specialize in them and do only those kinds of case, some lawyers do work in a variety of areas and only occasionally do disability claims. You don't want this kind of lawyer.
Note: if you need assistance with your disability claim, contact us at: 919-890-8519.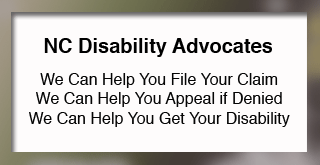 Why? Because Social Security Disability is actually somewhat complicated. Disability cases can be approved on the basis of listings, or based on a medical vocational disability determination that involves looking carefully at a person's medical records AND their work history as well. There are rules that apply based on a person's age and education and skills.
Get a representative who does nothing but Social Security Disability
The truth is, disability claims require individuals who really do specialize in Social Security Disability cases. Because if they only dabble in these cases, they probably won't end up learning enough about how the system works so they can be effective.
2. No one who represents a disability claim, an attorney or accredited disability representative such as myself, is allowed to charge a fee unless they win. This is because fees are governed by Congress. And attorney fees can only be paid out of a person's Social Security back pay. If the case is not won, there is no back pay and a fee is impossible. If anyone tries to charge a fee in any other way, they can be barred from representing disability claimants.
Seventy Percent of disability applications are denied in North Carolina. Complete the form below to get help with your disability claim. We are local, we understand how the system works in NC, and our consultation is FREE. After submitting, please scroll to the bottom for the confirmation that your form was sent, and to copy our phone number if you have further questions.
---