How long do I have to be off work before I can apply for disability in North Carolina?
by Tim Moore. Free Case Evaluation here.
The SSA definition of disability says your condition must be severe that it prevents you from working and earning what SSA considers a substantial and gainful income, at either one of the jobs you have done in the past or at some other type of work.
However, it also says that your condition must be disabling enough to keep you from this type of work activity for a period of not less than one year.
Note: if you need assistance with your disability claim, contact us at: 919-890-8519.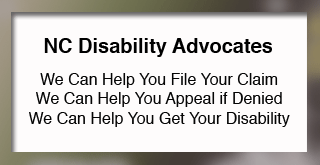 Do I have to be out of work for a year before I can apply?
Many individuals who hear this definition of disability will ask the question, "Do I have to be disabled and unable to work for twelve months before I can file for disability in North Carolina?" And the answer to that question is no.
So when can I apply for disability in North Carolina?
As soon as your condition prevents you from being able to work, you should immediately file for Social Security Disability or SSI disability in NC. Ideally, of course, you should do this at a local office versus filing online and you should do it at the office nearest to where you live.
The twelve month rule will still apply–however, a disability examiner or administrative law judge can review an applicant's medical records and make a projection as to whether or not an applicant's disabling condition will last the full twelve months (in some cases where a claimant is disabled for less than twelve months, the claimant may be ineligible for ongoing disability benefits, but still be eligible for a closed period, which is essentially x number of months of benefits).
Seventy Percent of disability applications are denied in North Carolina. Complete the form below to get help with your disability claim. We are local, we understand how the system works in NC, and our consultation is FREE. After submitting, please scroll to the bottom for the confirmation that your form was sent, and to copy our phone number if you have further questions.
---