How the Social Security Disability and SSI process works in NC
by Tim Moore. Free Case Evaluation here.
Where your disability claim starts in North Carolina
At DDS, each applicant's application for disability will be assigned to a case processing specialist known as a disability examiner. The examiner will obtain the medical records that are needed to evaluate the claim (based on the medical treatment sources listed at the time of filing) and will also evaluate the individual's work history or school records, depending on whether the disability claim is for an adult or a child.
Note: if you need assistance with your disability claim, contact us at: 919-890-8519.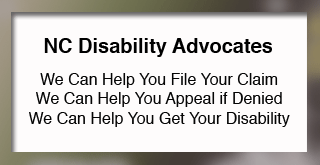 What will happen on your disability case
During the processing of an SSD or SSI claim at NC DDS, the following things will typically occur:
1. A disability claimant may receive a call from the examiner assigned to their case and in this call the examiner may inquire about the claimant's ability to engage in normal daily activities. Typical questions might include "Can you run a vacuum cleaner?", "Can you dress yourself?", "Can you prepare and cook meals for yourself?" Other questions may regard the individual's ability to bring in groceries or reach up or down into cabinets.
Properly answering questions about your disability
While questions like this might seem reasonable, and they are, an applicant who gets an ADL, or "activities of daily living", phone call should be careful with regard to how they answer such questions. To use an example of what we mean, if a person who has a fairly severe back condition such as degenerative disc disease states they are able to use a vacuum cleaner, then they should also point out just what effect this type of activity has on them later. This is because the simple fact of the matter is that many claimants with back problems are able to use a vacuum cleaner occasionally. However, the outcome of this activity tends often to be severe lower back pain afterwards, sometimes going on for days.
Note: More on SSD, SSI, and degenerative disc disease.
You may be sent to a medical exam
2. A person filing may get a letter from a disability examiner at NC DDS notifying them that a medical examination has been scheduled for them. This happens in probably more than 25 percent of all cases and these kinds of examinations are known as a CE, or consultative exam. Consultative exams can be physical impairments or mental impairments. If they are for physical issues, they can be general exams, or they can be neurological, or even simply be appointments for X-rays. If they are mental impairments, a CE may be a psychiatric exam or an IQ test.
Who performs your medical exam?
Even though these exams are often called social security examinations, they are not performed by medical doctors who actually work for the social security administration. The exams are done by physicians who have been contracted to perform these services. Additionally, these disability exams are not conducted for the purpose of delivering medical treatment, but rather to get a snapshot of a claimant's current condition.
Do you have a choice in going or not going to one of these exams? Not really. In fact, a case can be denied for failing to go to a scheduled exam. Social Security schedules these exams in most cases to obtain medical evidence that is more recent and without these exams, an approval is often not possible.
Most claimants will notice that a visit to a "social security doctor" will not last long at all. Very often, the examination will only last ten to fifteen minutes and the doctor performing the exam may ask very few questions.
Sometimes, these doctors tend to be rude and short with individuals who are applying for benefits.
3. Once a disability examiner has everything they need to close a case, i.e. make a decision, a social security applicant should very shortly receive a notice in the mail. If the notice indicates an approval, then the claimant will simply need to wait while their case is being put into benefit receipt status. If the letter is a notice of denial, the claimant will need to file an appeal and do this within 60 days of the date of the denial. This date is usually stamped in the upper right-hand corner of the notice
To get benefits, you will probably have to see a judge in North Carolina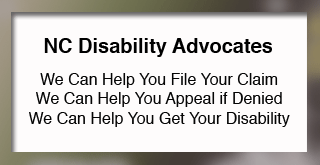 For most individuals, of course, the disability process will entail a series of denials on a claim and will, inevitably, result in the need for a claimant to have their case heard by an administrative law judge. This is, of course, where we, as your disability representative in North Carolina do the bulk of our work for you, getting you and your case ready for a hearing
It is at this stage of the disability claim process (the hearing) that an individual is afforded the opportunity to become "more than a file". It is also at this stage that an SSI or SSD claimant can have an attorney present who will advocate on their behalf. Most claimants, certainly be advised to go to a hearing with representation to maximize the chances of winning benefits.
In fact, the majority of claimants who show up at a hearing without an attorney or lawyer present will often be offered the opportunity to reschedule their hearing so a lawyer can be found.
Seventy Percent of disability applications are denied in North Carolina. Complete the form below to get help with your disability claim. We are local, we understand how the system works in NC, and our consultation is FREE. After submitting, please scroll to the bottom for the confirmation that your form was sent, and to copy our phone number if you have further questions.
---