Will my disability case go faster in North Carolina if I get the medical records myself?
by Tim Moore. Free Case Evaluation here.
Is it faster for me to get my own medical records from my disability claim?
I have seen cases that moved faster when a person got their own records gathered. Because examiners at the Raleigh DDS office are rated according to how quickly they move cases along, if someone gives them all the records they need, it can seem like Christmas to them.
Note: if you need assistance with your disability claim, contact us at: 919-890-8519.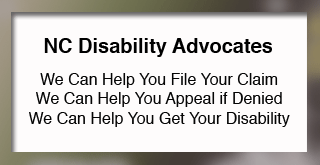 But the keyword is "need". They need records from specific dates in many cases. And sometimes they need specific records. So sometimes when a person gets their own medical records and submits them it doesn't help because they end up getting 98 percent of what is needed but not the 2 percent that the examiner really needs. Then the examiner has to order medical records anyway and no time was saved.
These are the records you need to get
If you get your records yourself, though, make double sure that you get the records going back to at least your alleged onset date that your indicated when you filed your claim. Also be sure to include your most recent dates of treatment. For Social Security to make a decision, the disability examiner at DDS must have at least a few records that are not older than 90 days.
Without recent documentation on a Social Security Disability or SSI case in NC, you cannot satisfy the SSA definition of disability and get your case approved. This applies to both SSD and SSI cases.
What happens if you don't have recent medical records?
Not having recent records will typically mean that you will be required to go to a disability examination by a private physician in North Carolina (who does not actually work for SSA). This is called a CE or consultative examination. It does not provide treatment and the results of the exam usually do not provide a basis for approval. It is in most cases just a formality to go through so Social Security can state that they had recent evidence in the file and could, thus, close the file with a decision.
Seventy Percent of disability applications are denied in North Carolina. Complete the form below to get help with your disability claim. We are local, we understand how the system works in NC, and our consultation is FREE. After submitting, please scroll to the bottom for the confirmation that your form was sent, and to copy our phone number if you have further questions.
---