What if Social Security denies you in North Carolina?
by Tim Moore. Free Case Evaluation here.
What do if you get a denial in North Carolina?
Here is my answer based on my work experience as a disability examiner in North Carolina, and as a Disability Representative for individuals trying to get their benefits. There is only one thing to do if you are denied disability in North Carolina. If you still cannot work, file an appeal, and do it quickly. This first appeal is called a request for reconsideration appeal.
Note: if you need assistance with your disability claim, contact us at: 919-890-8519.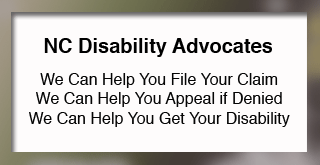 What happens on a Reconsideration appeal?
Since I am a former disability examiner for the Social Security Administration's DDS (disability determination services) in Raleigh, NC, I can tell you that the reconsideration appeal is not one bit different from the application process. The only difference is that a different examiner makes the decision.
How long do you have to appeal?
The appeal period is sixty days, with an additional five days mailing time. So, altogether, you have 65 days from the date of your denial notice to send in your appeal.
How do you send in the appeal?
You can call the Social Security office where you applied and request paper forms be sent to you. Or you can do the appeal online. Or, if you are represented by a disability lawyer or representative in NC, you should call them as soon as you receive the denial notice and they will file the appeal for you. This is what our office does on a routine basis.
What if the Reconsideration appeal gets denied?
If your reconsideration appeal is denied (about eighty-five percent are denied) make sure that you file your request for an administrative law judge hearing in North Carolina in a timely fashion, i.e. on time. The biggest consequence of filing a late hearing request is that there is a very good chance that you will have to file a new disability claim. And that means all of the time it took to process your initial disability claim and reconsideration appeal (a few months) was wasted.
Filing appeals quickly to avoid distress
When you are without money and unable to work, any time wasted just causes more financial and emotional stress. This is why it is so important to file your disability denial appeal timely and quickly as possible. Even timely appeals add to the overall processing time of your disability claim.
Keep in mind: If you wait an entire two months each time you appeal your disability claim (assuming that you are appealing the denial of a disability application and are later appealing the denial of a reconsideration request), you have added another four months to the processing time of your disability claim.

Free Case Evaluation
Seventy Percent of disability applications are denied in North Carolina. Complete the form below to get help with your disability claim. We are local, we understand how the system works in NC, and our consultation is FREE. After submitting, please scroll to the bottom for the confirmation that your form was sent, and to copy our phone number if you have further questions.
---