Social Security Field and District Offices in North Carolina
by Tim Moore. Free Case Evaluation here.
Social Security Offices in North Carolina
by Tim Moore, Disability Representative, former NC Disability Examiner. Free Case Evaluation Form at the bottom or click here.
---
This is a listing of Social Security field and district offices in North Carolina.
We advise individuals who are seeking disability benefits to contact a local office instead of filing online or calling the national toll free line. As local disability representatives, the latter we absolutely would discourage against.
Note: if you need assistance with your disability claim, contact us at: 919-890-8519.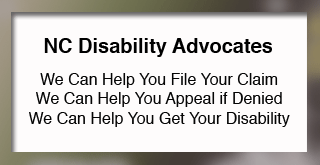 Contacting a local office saves problems and gets you in touch with the individuals you would likely be speaking to anyway, and will probably result in a faster and more accurate disability claim, initially. If you have not applied yet, the most convenient option may be to call your local office and arrange for a telephone interview to get your disability claim started.
Ahoskie – SSA 1231 W. First st, Ahoskie, NC 27910
Albemarle – SSA 202 Charter st, Albemarle, NC 28001
Asheboro – SSA 157 Dublin Square rd, Asheboro, NC 27203
Asheville – SSA 800 Centre Park drive, Asheville, NC 28805
Charlotte – SSA 5800 Executive Center drive, Charlotte, NC 28212
Concord – SSA 830 Florence st NW, Concord, NC 28027
Durham – SSA 3004 Tower Blvd, Durham, NC 27707
Elizabeth City – SSA 1865 West City dr, Elizabeth City, NC 27909
Fayetteville – SSA 145 Rowan st, Fayetteville, NC 28301
Franklin – SSA 2123 Lakeside drive, Franklin, NC 28734
Gastonia – SSA 609 Cotton Blossom CR, Gastonia, NC 28054
Goldsboro – SSA 915 W. New Hope rd, Goldsboro, NC 27534
Greensboro – SSA 6005 Landmark Center Building, Greensboro, NC 27407
Greenville – SSA 2805 S Charles blvd Greenville, NC 27858
Henderson – SSA 858 S. Beckford drive, Henderson, NC 27536
Hendersonville – SSA 205 S. Grove st, Hendersonville, NC 28792
Hickory – SSA 1040 Southgate Corp Park SW, Hickory, NC 28602
Kinston – SSA 2559 N Queen st, Kinston, NC 28501
Lumberton – SSA 4430 Kahn drive, Lumberton, NC 28358
Mount Airy – SSA 1187 North Andy Griffith Parkway, Mount Airy, NC 27030
New Bern – SSA 1420 Mccarthy blvd, New Bern, NC 28562
Raleigh – SSA 4701 Old Wake Forest, Raleigh, NC 27609
Reidsville – SSA 2402 Freeway dr, Reidsville, NC 27320
Roanoke Rapids – SSA 833 Gregory drive, Roanoke Rapids, NC 27870
Rockingham – SSA 220 East Green st, Rockingham, NC 28379
Rocky Mount – SSA 1071 Hunter Hill rd, Rocky Mount, NC 27804
Salisbury – SSA 1840 Jake Alexander ave W Salisbury, NC 28144
Sanford – SSA 401 Tiffany drive, Sanford, NC 27330
Shelby – SSA 707 Schenck st, Shelby, NC 28150
Smithfield – SSA 33 Venture drive, Smithfield, NC 27577
Statesville – SSA 2038 Davie ave, Statesville, NC 28625
Washington – SSA 1633 John Small ave, Washington, NC 27889
Whiteville – SSA 204 South Lee st, Whiteville, NC 28472
Wilkesboro – SSA 1517 River st, Wilkesboro, NC 28697
Wilmington – SSA 1528 S 16TH st, Wilmington, NC 28401
Wilson – SSA 1911 Westwood ave, Wilson, NC 27893
Winston Salem – SSA 1370 Lockland ave, Winston-Salem, NC 27103
Free Case Evaluation
Seventy Percent of disability applications are denied in North Carolina. Complete the form below to get help with your disability claim. We are local, we understand how the system works in NC, and our consultation is FREE. After submitting, please scroll to the bottom for the confirmation that your form was sent, and to copy our phone number if you have further questions.
---