Request for a Social Security Disability Hearing
by Tim Moore. Free Case Evaluation here.
If you are denied disability in North Carolina, then your best chance of being approved for SSD or SSI benefits will be the disability hearing before an ALJ, or administrative law judge.
This is because 1. More than 70 percent of all claims for disability are denied at application, 2. more than 80 of reconsideration appeals are denied (the reconsideration is the first appeal), and 3. More than half of cases that go before judges are approved. For individuals with representation, this has been estimated to be about 60%. And many disability representatives report that they win about 70 percent of their hearings.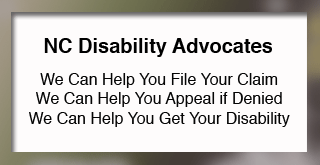 How do you request a disability hearing in North Carolina?
The first thing is to request is quickly

. Social Security gives you 60 days to file any appeal. But do not wait a single day. File the appeal immediately so you do not have to wait any longer than necessary to get your case finalized. If you file it via paper forms, make sure you make a copy when you send in the paper appeal forms, just in case they don't arrive at the Social Security office. The forms to send in are SSA-3441 (the disability report form), SSA-827 (the medical release of information form) and HA-501 (the actual hearing request form).
2. If you choose to appeal online, you can google this phrase "Social Security Disability Benefits Appeal A Decision" and you should get to the SSA.gov page that allows you to file the request for hearing. Doing the appeal online is fairly easy. While we don't recommend applying online, if you have an existing claim, filing an appeal online is fine.
3. If you are represented, call your representative as soon as you get the reconsideration appeal notice (the reconsideration must be denied before you are applied to ask for a hearing).
4. If you are not represented, consider finding someone. Our office, which handles cases for residents of central North Carolina, routinely encounters claimants who previously represented themselves at hearings and did not win their cases. Going it alone at the application and reconsideration appeal levels is fine, but attempting to do so before a federal judge without any knowledge of how claims are adjudicated and what the legal issues are is not a good idea. The disability hearing takes too long to get to and not be fully prepared.
Free Case Evaluation
Seventy Percent of disability applications are denied in North Carolina. Complete the form below to get help with your disability claim. We are local, we understand how the system works in NC, and our consultation is FREE. After submitting, please scroll to the bottom for the confirmation that your form was sent, and to copy our phone number if you have further questions.
---