How much can you get for disability in NC?
by Tim Moore. Free Case Evaluation here.
If your claim is for Social Security Disability (SSD), this means that you worked long enough to be considered "insured" and typically this means that you worked at least five out of the last ten years. Your benefit amount will be based directly on the taxes that were taken out of your paychecks. Some individuals will have benefits as high as $2600 per month, but the average benefit will be around $1200 per month. The Social Security office can give you at the time of application an estimate of your benefit amount.
Note: if you need help with a disability claim, contact us at 919-890-8519.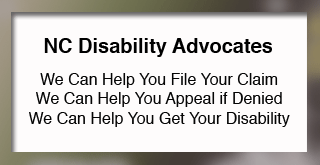 If you fall into one of the following three situations, 1. You did not work (for example, stay at home spouses and long-time students), or 2. You worked for several years but did not work in the last five years causing you to lose your insured status, or 3. You continued to work but had very low earnings, then you may end up filing for supplemental security income, or SSI. The SSI monthly disability benefit amount is set federally meaning that everyone potentially receives the same amount.
Please be awafe that if you are awarded SSD, you will receive medicare benefits after receiving disability benefits for 24 months. In many cases, you may not
have to wait at all for your medicare because the 24 months may be included in your back pay. If you are awarded SSI, you will receive medicaid benefits which will pay for doctor visits and prescriptions each month. Your Medicaid card comes from the Department of Social Services, or DSS.
Note: Our office, located in North Carolina, represents disability claims for individuals who have not yet filed and individuals who have been denied. Our service area includes the following towns: Henderson, Oxford, Norlina, Warrenton, Roxboro, Youngsville, Wendell, Wake Forest, Zebulon, Creedmoor, and Knightdale.
Free Case Evaluation
Seventy Percent of disability applications are denied in North Carolina. Complete the form below to get help with your disability claim. We are local, we understand how the system works in NC, and our consultation is FREE. After submitting, please scroll to the bottom for the confirmation that your form was sent, and to copy our phone number if you have further questions.
---