Will your North Carolina disability lawyer charge you upfront for taking your case?
by Tim Moore. Free Case Evaluation here.
Neither a North Carolina disability lawyer, nor a North Carolina disability representative, can charge you an upfront fee for handling your disability case. You only pay a fee for representation if the case is won, it comes out of your back pay, and it is sent to the representative by Social Security.
Note: if you need assistance with your disability claim, contact us at: 919-890-8519.
Other practices in North Carolina will generally ask you to reimburse them for whatever costs they incurred in getting your medical records. However, we do not charge this. We believe that if we win your case and are paid a fee by Social Security, then this is enough. We may be the only office in North Carolina that does this.
Social Security representation fees are highly regulated by the Social Security Administration. This applies to the amount a disability representative can charge you, when they can receive their fee, and under what circumstances.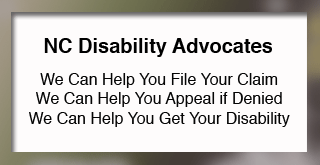 As we have stated on other pages, a disability representative can only charge you after the disability case has been won. The disability representative or lawyer also cannot determine the amount of the fee since this is regulated by Social Security.
Currently, the fee that a representative may receive for winning your claim is 25% of whatever backpay you are eligible to receive, payable up to an absolute maximum of $7200. If the case is not won, there is simply no fee to be paid.
Moreover, except in rare circumstances where the representative does not have fee withholding, the Social Security Administration will take care of deducting the fee amount from your backpay and sending it to the representative for you.
Note: when you select a disability attorney or representative in North Carolina, you will sign several new client forms to establish them as your designated representative. Several of these forms will be medical release forms which will allow both Social Security and your representative to obtain your medical records, and a SSA-1696 form (Appointment of representative form).
However, one of these forms will be a fee agreement. The fee agreement that you sign must be approved by the Social Security Administration. In fact, unless the fee agreement form is approved by Social Security, your disability representative cannot receive a fee even if they win your case. It is for this reason that you will not have to worry about being charged an unreasonable fee to whoever takes your disability case.
Having said that, though, you should still read your fee agreement before signing. This is because while the fee for representation does not change, your attorney or representative can still charge you for incidental expenses and these will vary. In most instances, incidental expenses will simply amount to reimbursement for the cost of obtaining your medical record updates, which will be necessary for proving and winning your case.
Seventy Percent of disability applications are denied in North Carolina. Complete the form below to get help with your disability claim. We are local, we understand how the system works in NC, and our consultation is FREE. After submitting, please scroll to the bottom for the confirmation that your form was sent, and to copy our phone number if you have further questions.
---