How do you pay a North Carolina disability lawyer?
by Tim Moore. Free Case Evaluation here.
You will not be responsible for making the fee payment to your North Carolina disability lawyer or Disability representative. The Social Security Administration will handle this for you by taking it out of your back pay and sending it to the representative. This means that if we do not win your case, you do not pay a fee. We are only paid if we win your case and then the fee is taken care of by SSA.
Our office also does not charge you any upfront or additional expenses such as for gathering medical records for your claim. We do this at no cost to you, which is probably not the way most practices in NC handle the issue.
After you win your disability benefits in North Carolina, a Social Security payment center will calculate the back payment that you are owed and also calculate the portion of your back payment that will be sent to your representative as their fee for handling your claim.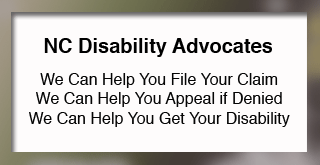 In a limited number of instances, your representative may not be eligible for fee withholding from the Social Security Administration. If this is the case, then you will be responsible for sending the representative their fee.
However, in most cases, a disability attorney or a non-attorney claimant's representative who has taken and passed the national certification exam will be eligible for fee withholding. Which simply means, from your standpoint as a client, you will not have to worry about the actual payment of the fee. The Social Security Administration will do this for you.
Seventy Percent of disability applications are denied in North Carolina. Complete the form below to get help with your disability claim. We are local, we understand how the system works in NC, and our consultation is FREE. After submitting, please scroll to the bottom for the confirmation that your form was sent, and to copy our phone number if you have further questions.
---