How much will a North Carolina disability attorney charge?
by Tim Moore. Free Case Evaluation here.
As we have previously stated, your NC disability attorney or Disability representative, may only charge you a fee that is equal to 25% of your backpay, up to a maximum of $6000. And this may only be paid, of course, if your case has been won. So, just to clarify, if we, or any other representative, handles your disability case, you do not pay anything upfront, and you do not pay anything unless you get disability benefits awarded. Also, the representation fee comes out of your back pay, so you don't actually have to pay the fee directly.
Note: if you need assistance with your disability claim, contact us at: 919-890-8519.
For most people, it makes it easier that the fee payment will be taken care of by the Social Security Administration, which will deduct it from your disability backpay. However, in most instances, there will be incidental expenses that will need to be paid to the representative or lawyer. Our office, I should say, does not charge for incidentals such as the cost of getting your medical records or any other incidentals. We view getting your records as a cost of doing business and we do not charge for this.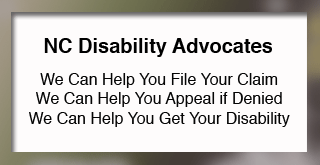 Generally speaking, when it comes to getting representation in North Carolina (other than our office) incidental expenses that you will need to reimburse your representative for will be whatever costs were incurred by them to obtain your more recent medical records, or functional capacity reports, or statements from a qualified treating physician.
Note: medical source statements, a.k.a. residual functional capacity reports, from a treating physician are crucial in most instances to winning the case, especially at the disability hearing level where the decision will be made by an ALJ, or administrative law judge.
Having said that, though, there are some disability attorneys and representatives who will charge for incidental expenses that go beyond this. For example, if you have a disability representative outside the state of North Carolina, you may be required to reimburse them for their travel expenses in coming to your disability hearing.
For this reason, you will want to read your fee agreement before signing it. And it is possible that reading your fee agreement will have some impact on who you choose to represent you on your disability claim. It is probably safe to say that having a local, i.e. North Carolina, representative to handle your claim, will result in the more normal range of incidental expenses that you will find yourself in the position of having to pay.
How much do "incidental expenses" generally run? When incidental expenses are defined as simple reimbursement for whatever cost the lawyer or representative incurred for getting your medical records, and other medical evidence, the reimbursement expense can usually be in the vicinity of $100-$200.
After your case has been won, your representative or attorney will send you an invoice for these costs which should fully explain what you should reimburse them for.
Seventy Percent of disability applications are denied in North Carolina. Complete the form below to get help with your disability claim. We are local, we understand how the system works in NC, and our consultation is FREE. After submitting, please scroll to the bottom for the confirmation that your form was sent, and to copy our phone number if you have further questions.
---