Social Security Disability Resource Center

Overview | How to Qualify | Applications
Requirements | How long it takes | Back Pay
Mental Disability | What is a disability? | Tips
SSI Benefits | How to Win | Disability Awards
Hearings | Appeals | List of Disabling Conditions


Tim Moore, NC Disability Representative, Publisher of SSDRC: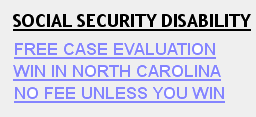 About the SSDRC:

For the sake of clarity, SSDRC.com is not the Social Security Administration, nor is it associated or affiliated with SSA. This site is a personal, private website that is published, edited, and maintained by Tim Moore, who was interviewed by the New York Times on the topic of Social Security Disability and SSI benefits in an article entitled The Disability Mess (also available in Word format) and also by the Los Angeles Times on the subject of political attempts to weaken the Social Security Disability system (word version).

The goal of the site is to provide information about how Social Security Disability and SSI work, the idea being that qualified information may help claimants pursue their claims and appeals, potentially avoiding time-consuming mistakes.

About Tim Moore:

I am not a disability lawyer but, instead, a Disability Claimant's Representative. What is the difference? In my particular case, there are several distinct differences.

First, while a disability attorney may divide their law practice between a number of different legal areas, a non-attorney disability claimant's representative will focus only on Social Security Disability and/or SSI cases. (Note: I am based within my home state of North Carolina and currently do not take clients).

I cannot overstate the importance of specialization. Since the Social Security Disability system is a "bureacratic administrative-law system" with multiple routes for approval (e.g., medical-vocational allowances vs. listing approvals) and a precise set of rules, guidelines, and regulations that govern the outcome for each case, there is little room for occasional practitioners. Without a doubt, every individual who pursues a disability claim deserves expert and knowledgable handling of their case.

Secondly, most attorneys have not worked for any component of the Social Security Administration; in my own case, I am a former disability examiner for the SSA's disability determination services (DDS) in North Carolina, located in Raleigh.

As a disability examiner, I adjudicated Social Security Disability and SSI claims, which is simply another way of saying that I reviewed the medical and vocational evidence of a case in order to determine whether it should be approved or denied. This background gave me particular insight into how cases are determined, how the system actually works at the ground level, as well as certain commonly made mistakes that are often made and which should be avoided.

Finally, I have taken and passed the federal written examination that is administered by the Social Security Administration and which is authorized under Public Law No. 111-142, "The Social Security Disability Applicants' Access to Professional Representation Act of 2010". The purpose of this exam is to test knowledge of the relevant provisions of the Social Security Act and also knowlege of the most recent developments in SSA including court decisions that affect titles II and XVI of the Social Security Act.

If you are seeking help on a disability case in the state of North Carolina (whether you have applied, been denied, not yet applied, or at the disability hearing level), the firm of Roberti Wicker Lauffer & Cinski PA can be contacted by completing this evaluation form.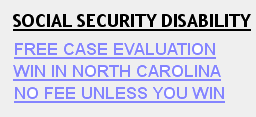 SSDRC Homepage:
Social Security Disability and SSI Resource Center
The Most Basic questions about Getting Disability Benefits
Social Security Disability SSI and whether or not you can work
Common Mistakes to avoid after being denied for Disability
Social Security Disability SSI Questions and Answers
More Social Security Disability SSI Questions and Answers
Common Questions about Social Security Disability and SSI
Winning Social Security Disability or SSI Benefits
The SSI Disability Benefits Program
Medical exams for disability claims
Applying for Disability in various states
Social Security Disability SSI and Doctors - Yours and Theirs
Social Security Disability and SSI Claim Reviews
Social Security Disability SSI System and Benefits for Children
Denials, Appeals, and Getting a Disability Lawyer or Representative
What you should know about Social Security Disability and SSI Denials
Questions about Disability Lawyers and Hiring a Disability Attorney
Frequently asked questions about getting Denied for Disability Benefits
FAQ on Disability Claim Representation
Disability hearings before Judges
Selecting and hiring Disability Lawyers
Various Types of Benefits including SSI, Mental, and Child benefits
Social Security and SSI based on Mental Disability
Social Security Disability or SSI Benefits for Children
Disability Benefits through Social Security
Filing for Social Security Disability or SSI Benefits
Social Security Disability SSI: Medical Evidence and Records
Filing your claim for disability benefits
Eligibility for receiving disability benefits
Info about Social Security Disability Approvals and Being Approved
FAQ on Social Security Disability SSI decisions
The SSD SSI Decision Process and what gets taken into consideration
Resources on this site
Social Security Disability, SSI Terms and Definitions
Previously answered questions regarding SSD and SSI
About the Author of SSDRC, Tim Moore
For Individuals living in North Carolina
Applying for Disability in North Carolina
North Carolina Disability Lawyer