Is it hard to get disability in NC?
Getting Disability in North Carolina can be a hard process
by Tim Moore. Free Case Evaluation here.
This is not a fun page to read because it tells quite a bit of truth about how hard the disability process is. If you would rather not read the entire article, I can give you the most important points here at the beginning. If you apply for disability in North Carolina, you stand a 70 percent chance of being denied, which will necessitate having to file two appeals, the second of which will get in front of an administrative law judge. The entire process will take at least a year and often longer.
All that said, however, if you have good representation, you stand a very good chance of being approved at your hearing which will result in you receiving monthly benefits and, in most cases, some amount of back pay owed to you. Our office does not sugarcoat the process because we know that you need to be aware of how long it can take so you manage your affairs properly while we attempt to get your benefits established.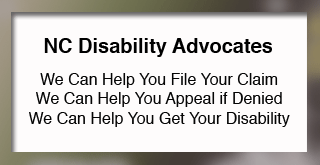 Some NC residents will get their benefits without needing a hearing
There is a percentage of individuals who apply for disability in North Carolina and get approved on their initial claim, sometimes within 60 days, 90 days, or 120 days.
The main point, of course, is that these individuals will be approved fairly quickly without the need to file appeals.
For them, the process will present few signicant obstacles and it will not be hard to get disability benefits in North Carolina. This will be true even if they are required to assist the disability examiner in providing additional information about their work history, or their history of medical treatment, or to provide information about their activities of daily living, or even to go to a medical exam that is scheduled and paid for by Social Security.
Most disability claims in NC are denied at the beginning
Unfortunately, the majority of individuals who file for disability in NC do not fit into this category. Regardless of where you file in the state, there is typically a 70% chance, or greater, that you will be denied on your initial claim.
When this happens to a North Carolina resident, the outcome is fairly predictable, and this is based on my many years of observation from working within the system as a disability examiner, and being involved in the representation of claimants.
1. Some applicants for disability benefits will file brand new claims, and some will do this repeatedly, only to be denied for the very same reasons, time and time again. This wayward process can easily consume months and years of valuable time, and it is a mistake in almost all cases since the best route for a person who has been turned down will be to file an appeal.
2. Individuals who have been denied and do not make the mistake of starting over with a new claim but, instead, take the correct step of filing appeals will still, unfortunately, have a fairly long wait ahead of them.
The first disability appeal in North Carolina
The first appeal in North Carolina, for example, the request for reconsideration, can easily take just as much time as the initial claim. Typically, a decision on a reconsideration is received sooner, and sometimes it can be received in just a matter of weeks after filing the appeal paperwork. But this is not always the case, of course.
And the more notable fact about reconsiderations is that they are denied at a significantly higher rate than even the disability application.
Reconsiderations usually face a greater than 80% chance of being turned down. This is pretty much in sync with the national average, and what happens in most other states. But the net effect is that it requires a person to file yet another appeal, this time a request for an ALJ, or administrative law judge disability hearing.
The chances of getting disability at a hearing are much higher
A person's approval chances at a disability hearing are much, much better. And this is for a variety of reasons, one of which is the simple fact that a Judge at a Social Security hearing will give the proper consideration to a statement from a physician if that physician can be categorized as a "treating physician "and that same physician's medical records support the statement that has been obtained for the purposes of the hearing.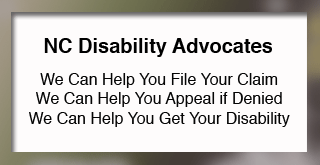 Note: handwritten statements will not suffice; typically, the physician statement, or "medical source statement " will be a form that has been supplied to the doctor by the disability representative who is providing representation for the claimant.
Not every doctor willingly supplies this type of statement, and sometimes it can take some effort to convince the doctor to take the time to fill out a medical source statement for their patient.
Why disability hearings in NC often result in approvals
However, something else that also affects the outcome of the case at the hearing level is this one simple fact: at the first two levels of the system in North Carolina, the claimant has almost no input and involvement on their own case. They simply wait for a decision to be received from Social Security, via the disability examiner who made the decision.
In contrast to this, at a hearing a case will be presented that is supported by new and very specific medical evidence that has been gathered by a disability representative.
The case will be supported by Social Security rules and regulations that contend that the claimant should be awarded disability benefits based on the supposition that they either:
A) meet the requirements of a disability listing (such as, for example, the listing for a type of cancer, or rheumatoid arthritis — Note: most cases are not approved on the basis of a listing),
or
B) they should be awarded benefits based on a medical-vocational allowance–in this type of approval, the disability representative will prove that the claimant's functional limitations outweigh whatever skills and education they may have that would ordinarily allow them to go back to work — this, of course, involves a careful reading of the information in the medical evidence.
So, to circle back to the original question with which we started, is it hard to get disability benefits in North Carolina? The answer is yes; in most cases, there will be some difficulty experienced in getting disability benefits awarded.
However, the fundamental lesson is that if an individual is denied, they should file an appeal. And if they are denied again, they should file their second appeal which will take their case before a Judge where the approval chances, with representation, will generally exceed 60%.
Seventy Percent of disability applications are denied in North Carolina. Complete the form below to get help with your disability claim. We are local, we understand how the system works in NC, and our consultation is FREE. After submitting, please scroll to the bottom for the confirmation that your form was sent, and to copy our phone number if you have further questions.
---