How to Request a Disability Hearing in North Carolina
by Tim Moore. Free Case Evaluation here.
The disability hearing is the third step in the disability claim process in North Carolina. It comes after the disability application and the reconsideration appeal. In North Carolina, you may submit a "request for hearing before an Administrative Law Judge" after your request for reconsideration has been denied. There are three ways to do this.
Note: if you need assistance with your disability claim, contact us at: 919-890-8519.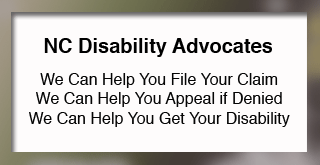 The first way is by filing the request online. Social Security makes this fairly easy to do at SSA.gov. However, if you have a disability representative, then this individual needs to file the appeal for you. To do the appeal online, you actually have two separate options.
You can visit the SSA.gov page titled "Disability Benefits | Appeal A Decision" at ssa.gov/benefits/disability/appeal.html. Or you can download and complete the following forms and mail them in or hand-deliver them to a Social Security office. Those forms are: 1. SSA-3441, Disability Report – Appeal; 2. SSA-827, Authorization to Disclose Information to SSA, and HA-501, Request For Hearing By Administrative Law Judge.
The second way is calling your Social Security office, telling them you would like to appeal, and then having them mail you the paperwork.
The third way, of course, is having your disability representative file the hearing request for you. If you are not represented at the time your reconsideration gets denied, you should look for representation. Who can represent you? You are not limited in who you choose. In my own case, I am a former disability examiner for Social Security in North Carolina and I am an Accredited Disability Representative.
Whoever you choose to represent your case, make sure they only do disability claims. It is not a good idea to get a representative who also does traffic cases, medical malpractice, or wills and estates, to use a few examples. Social Security law and regulations are complex and you need someone who specializes in Social Security Disability and SSI claims.
Note: there are several hearings offices in North Carolina, including the Raleigh hearings office, the Charlotte hearings office, the Greensboro hearings office, and the Fayetteville hearings office. Typically, a hearings office will have jurisdiction for a number of cities and towns. For example, residents of Raleigh, Durham, Wake Forest, Wendell, Zebulon, Garner, Youngsville, Henderson, Oxford, Norlina, Warrenton, Louisburg, Butner, Creedmoor, and Manson all fall under the Raleigh hearing office and if you live in one of those towns, that office will schedule your hearing for you.
Free Case Evaluation
Seventy Percent of disability applications are denied in North Carolina. Complete the form below to get help with your disability claim. We are local, we understand how the system works in NC, and our consultation is FREE. After submitting, please scroll to the bottom for the confirmation that your form was sent, and to copy our phone number if you have further questions.
---