How to get on disability in North Carolina
by Tim Moore. Free Case Evaluation here.
Warning: This page is very, very, very long. But…I wrote it it explain how the disability system works and to illustrate how complex it is.
As a former disability examiner at North Carolina DDS (Disability determination services, the agency that makes decisions on SSD and SSI claims for the Social Security administration), and as someone involved in the representation of disability claimants, I can state that the road to get on disability benefits is sometimes not an easy one to travel for the following reasons: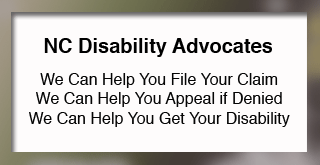 A. The process is long. A decision on a disability application in North Carolina is normally made within 3 to 4 months; however, in some cases it can take six months or longer to get a decision.
B. The majority of disability applications in the state are initially denied. Currently, about 33% of all claims are approved at the application level which means that 67% of all claims are denied. For most individuals to be awarded benefits in NC, it will take filing appeals.
Having said this, though, most claimants who refuse to give up on their claims will, statistically, be likely to eventually win their disability benefits.
Typically, the approval–for individuals who have been denied at the application level–will occur at the disability hearing level. This is because the first appeal, the request for reconsideration, has what can only be categorized as an "astronomically high" rate of denial (in NC, reconsiderations have a denial rate of 87%).
As to how get on disability in North Carolina, a claimant will have to prove the following:
1. That they have a severe medical impairment.
The impairment can be mental, or it can be physical. In most cases, a person will list several conditions on a disability application. In fact, it is relatively rare for an individual to list only one medical condition.
And, in truth, it is actually better when a person can list multiple medical conditions. This is because the Social Security administration does not really focus on the specific condition that a person has. The focus will, instead, be on the functional limitations, either of a physical or mental nature, that result from the condition.
So, it is not at all unusual for a person to be approved for disability in North Carolina because they have (for example) carpal tunnel syndrome, depression, back problems, and perhaps even more conditions that, in their totality, result in enough limitations that make it impossible for them to return to work activity (performing either their past work, or performing some type of other work that, were they not disabled, their combination of education and skills would make them eligible to switch to).
2. That their medical impairment is severe enough to have lasted at least one full year.
This is what Social Security refers to as "duration". And on this point, we should clarify something: a person does not have to have been disabled for a full year before they file for disability in North Carolina. They can apply for disability and a disability examiner, or a disability judge, depending on the level of the claim, can review the medical evidence and make a projection as to whether or not the impairment will eventually last a full year, if it has not already.
3. That their condition is severe enough to prevent them from working and earning what Social Security considers to be a substantial and gainful income during this minimum one year period.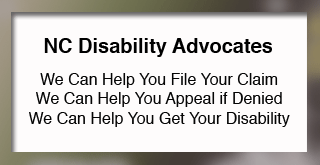 Working while trying to get disability
Note: this does not mean that a person cannot be working in order to apply for disability in North Carolina. It simply means that if you file for disability, and you are working, your earnings must be under the SGA, or substantial gainful activity income limit that is in effect for the current year.
However, we should stress that if you are working while you file for disability, or if you go back to work while you are receiving disability benefits, you should be very careful not to exceed the SGA limit; otherwise, you may make yourself ineligible to receive disability benefits, and may potentially owe an overpayment to Social Security.
The two ways you get approved for disability
If a person is granted a Social Security Disability award in North Carolina, or an SSI disability award in North Carolina, it will be through one of two ways: The person may be approved by meeting a listing in the Social Security bluebook, or they may be approved by being given what is called a medical vocational allowance.
Meeting a listing means that you have a medical condition that is contained in the Social Security Disability list of impairments, also called the blue book. Satisfying the requirements of the listing is very difficult because the criteria is fairly detailed and most individual's medical records will not contain the information needed to meet the requirements of the listing.
The more common way of being approved is a medical-locational allowance.
This is where the person's medical records are reviewed to determine what their functional limitations are. The decision is made by the disability examiner, or judge if the case is at the hearing level, to determine whether the individual is capable of doing sedentary, light, medium, or heavy work.
This is called an RFC, or residual functional capacity, rating. This rating is then compared to the claimant's history of past work to determine whether or not they can go back to any of their past jobs that were performed within the 15 year period prior to becoming disabled.
If they are not able to go back to any of the jobs that are part of their past work, then a determination is made as to whether or not they can do some type of other work based on their skills and education.
If a person is found to be unable to do their past work, or any other type of work, they will be granted disability benefits.
This is essentially how the disability system works in North Carolina, and in every other state. How the system becomes very complex, of course, is in the interpretation of the information contained in a person's medical records, as well as the interpretation of their work history.
This probably accounts for why a very high percentage of cases are denied at the disability application and reconsideration appeal levels, while many of those same cases are later approved at the disability hearing level, particularly when a person has a qualified representative who is familiar with how case decisions are made, and how decisions have been improperly been made at the prior levels.
To recap:
To get disability benefits awarded in North Carolina, a person's case must satisfy the requirements of the Social Security Administration's disability guidelines.
For the most part, that is a matter of analyzing the individual's evidence–contained in their most recent medical records (including statements from treating physicians) but also contained in their case file, which will provide insight as to why the case was previously denied, as well as any signs of errors in the decision process.
Seventy Percent of disability applications are denied in North Carolina. Complete the form below to get help with your disability claim. We are local, we understand how the system works in NC, and our consultation is FREE. After submitting, please scroll to the bottom for the confirmation that your form was sent, and to copy our phone number if you have further questions.
---