Getting approved for mental disability benefits in North Carolina
by Tim Moore. Free Case Evaluation here.
If you are seeking benefits, based on a mental disability, North Carolina, you may wish to do the following:
1. Make sure you have a clearly established history of treatment for your condition, whether your condition is depression, anxiety disorder, bipolar disorder, OCD, or any other type of mental impairment.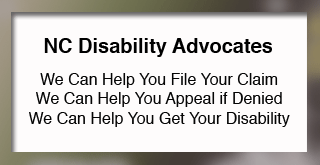 2. Try to be seen by a qualified mental health professional, such as a psychologist or psychiatrist. The simple fact of the matter is that your internist, or GP, will simply not be looked at the same way. If they provided a diagnosis of your condition, this will be accepted. However, it is practically an automatic conclusion that their records will not provide the information required to qualify you for disability on the basis of a mental condition.
3. Make sure that by the time you file for disability in NC, you have had recent treatment. "Recent "treatment means that you have been seen by your doctor at some point within the last 90 days.
Why is this important? It is important because, for Social Security to award you benefits, they must be able to prove that you are not only in possession of a disabling condition, but that your condition is currently disabling.
This is, in fact, where many disability claims filed on the basis of a mental problem are defeated. Social Security often denies mental disability claims using the rationale that an individual's condition will improve to a non-disabling point before the minimum one-year period (part of the Social Security definition of disability is that a person must have a disabling condition that lasts for at least one year in order to be approved).
What happens if you file for disability and have many records, but you have not been to a doctor in the last 3 or 4 months? In this case, it would depend on the strength of the records.
If your records provide detailed, objective evidence which strongly suggests you would meet a disability listing, or would satisfy the requirements for a medical-vocational allowance, then the fact that you do not have recent records would not necessarily stop your case from being approved.
In instances such as this, you would be sent to what is known as a CE, or consultative exam.
Typically, the purpose of a CE, which is performed by an independent psychologist or physician, is to provide a recent snapshot of your condition, so that Social Security may satisfy its requirement for recent evidence, and make a decision on your claim.
In cases filed on the basis of a mental impairment, however, a consultative exam can sometimes actually assist in getting a case awarded. This is because a mental exam may be a full psychiatric exam, or it may be testing for memory loss, such as a memory scale, or it may involve an intelligence test.
Mental consultative examinations take longer to administer, and are more detailed. All that said, a mental exam cannot make up for the fact that a person's medical records are sparse. Therefore, if you do not have an established history of treatment for your condition, it is likely that the results of the mental exam will not get your disability benefits approved.
4. If you have been prescribed medication for a mental condition, make sure you are compliant with this. Social Security takes the position that if you are prescribed medication for a condition that is mental, and you are not taking this medication, then it will be impossible for Social Security to determine how severe your condition currently is, and whether or not you are disabled according to Social Security rules and regulations.
5. If you are filing on the basis of a lifelong mental condition, or on the basis of a learning impairment, you may wish to obtain your school records and provide them when you file your disability claim. Social Security, or your disability representative, will usually try to do this.
This is done because your school records will contain information about testing that was previously administered to you, as well as grade reports and any other indications of difficulties you had in the past.
Gathering your school records in advance and submitting them when you file can sometimes save a considerable amount of processing time on your case. For that matter, gathering all of your medical records and supplying them when you apply can have the same effect.
Related: What can I expect from a Social Security Mental Examination or Evaluation?
Seventy Percent of disability applications are denied in North Carolina. Complete the form below to get help with your disability claim. We are local, we understand how the system works in NC, and our consultation is FREE. After submitting, please scroll to the bottom for the confirmation that your form was sent, and to copy our phone number if you have further questions.
---